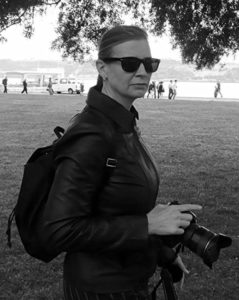 Stacy Allen holds an Advanced Open Water Diver certificate, and is also certified in NITROX. She has traveled to Italy many times. Her passion for adventure has taken her to five continents to explore many countries. Preferring the exotic to the mundane, her adventures have included – to name a few – hot air ballooning in Egypt; hiking Machu Picchu; riding in the Sahara atop a camel named Cinderella; diving with manatees; riding horseback in the national forest above Barcelona; hiking up to the Parthenon in Athens; climbing the mountain in Delphi, Greece; walking on the great wall of China; Hiking to 12,000 feet up to Tiger's Nest in the Himalayas; cruising up the Nile River; exploring the Galapagos islands; floating in gondolas in Venice; standing on top of the Eiffel Tower; climbing down into the Red Pyramid in Dashur, Egypt; attended cooking school at Le Cordon Bleu in Paris; camping in the Serengeti; touring the island of Zanzibar; studying Italian in Castleraimondo, Italy and crossing the Atlantic on 4 different ships. Stacy Allen also plays guitar and sings, when she isn't traveling around the world in search of new locales and new stories.
Her love of history, treasure hunting, Italy, archaeology and wreck diving helped her craft this vibrant, fresh novel, the first in the Riley Cooper series.
Stacy Allen served on the Board of Trustees of the Pacific Northwest Writers Association, the Pacific Northwest Mystery Writers of America chapter, and currently serves as Vice President of the Southeast Mystery Writers of America (SEMWA) chapter. She is represented by Jill Marr, of Sandra Dijkstra Literary Agency. She lives in Georgia with her husband and a very large house cat named Valentino.
Expedition Indigo is the first in her Romantic Suspense series. Expedition Indigo introduces Dr. Riley Cooper, an archaeology professor who is thrust into the world of wreck diving and treasure hunting when she travels to Italy with a team of treasure hunters to find and salvage The Indigo, a cargo ship that sank off the coast of Sorrento in 808 A.D.
"I wanted to write a novel that showed that we are all stronger than we think we are. All of us have self-doubts and misgivings of what we are capable of, and yet, when things get tough, the human condition shows us strength and courage we didn't know existed, and gets us all through the tough, trying times that life throws at us. When you first meet Riley, she is unsure of herself and doubtful she has what it takes to go on this mission. By the end of the book, she has found out what the reader knew all along: that she is more than capable of the tasks she is given. She has a new respect for herself, when she realizes that without her courage and strength, lives would have been lost and treasures would have been stolen. I want the readers of this book to realize, through Riley's story, that they are also capable of doing the difficult, seemingly impossible things that we are faced with in our lives. Even when we don't think we can, we have what it takes."